Download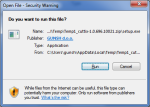 Please enter security code below to start your download. You will receive a 4.48 MB ZIP archive.
Please note that all our software is digitally signed by GUNSH d.o.o. See image for a hint of what security warning you might get (click for larger image).
Request a Free Evaluation
After you install Cuttix you will be prompted to enter an activation code to continue. You may request an activation code for a free 15-day fully featured evaluation. During this period all program features will be at your disposal. Please click below to request your activation code NOW!